Considerations for LGBTTQ+ community
While significant progress has been made in Canada in the legal and social acceptance of LGBTTQ+ families, a number of challenges still face LGBTTQ+ couples and individuals who want to have children. Navigating the process of assisted reproduction and parental recognition can be difficult. Accessing good support systems should be part of everyone's journey to parenthood.
Assisted reproduction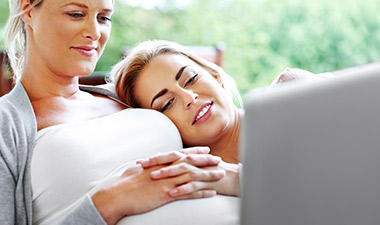 Assisted reproduction is an important aspect of family planning for lesbian, gay, bisexual, trans, and queer families. LGBTTQ+ individuals may have unique fertility issues that involve the preservation of eggs, sperm, or embryos. LGBTTQ+ families may face challenges in accessing assisted reproduction services (e.g., uninformed assumptions regarding fertility, relationship, and family status, insensitive counsellors, etc.). However, many fertility clinics do have substantial experience fulfilling the needs of LGBTTQ+ parents. Some things you may consider to ensure a more positive journey include:
Correcting paperwork/forms that may not reflect your identity or family relationships
Correcting staff who use incorrect pronouns or make incorrect assumptions about your fertility
Sharing your story with counsellors
Parental recognition
Accurate parental recognition is in the best interest of the child. Parental recognition can be a complicated matter for LGBTTQ+ families. Laws regarding parentage vary across the country. In general parental recognition can be achieved through birth registration, second parent adoption, or declaration of parentage. At the time of birth registration, the person who gives birth to the child may be recognized as a parent (including a surrogate). Any individual who provided either sperm or eggs may also be recognized at birth registration. Second parent adoption or declaration of parentage processes may be necessary to ensure legal parentage of the intended parents. Talk to an experienced lawyer before the birth of the child to make sure the proper steps are taken for proper parental recognition.